Chair Yoga is giving seniors freedom, dignity and presence.
Pictured is Ida Mae Graves – 94 – who said "I don't know why, but I keep doing it, and it is working for me. I feel good."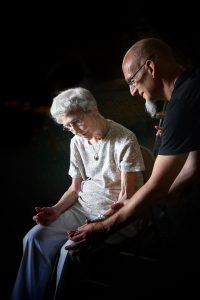 I am grateful for this coverage – the title says it all: Chair Yoga is helping seniors regain (and retain) mobility and stability.  Falling is a big fear for them – bones will break, causing complications that could be life-threatening.
Everyone is capable.  A man in a wheelchair (who stopped walking after his wife died) is coming around – we may be seeing him get up out of the chair soon!  (I'll be sure to post that!)
Click on the image of Ida Mae to read the article.
These classes at The Canton Regency and The Danbury are FREE – to residents and community members.
The Canton Regency
Tuesdays & Fridays – 1:15PM – 2:00PM
4515 22ND STREET NW
CANTON, OH 44708
(877) 927-4841
The Danbury
Thursdays – 1:30PM – 2:15PM
181 Applegrove Street NE, North Canton, OH, 44720
330-497-8718